How to Create the Perfect Equestrian Instagram Bio
How's your bio looking? Is it helping you attract your ideal audience?
Look, you know that Instagram is a valuable and cost-effective tool to help grow your business.

That's why you're working on showing up, creating terrific content, using hashtags and doing all the things.

But... if you have a weak bio, then all that hard work will not give you the results you want.

Why?
Because just like with a horse, if the basic conformation of your bio is lacking then no amount of training or fancy equipment can make up for that.

So let's break down the elements of a winning Instagram bio.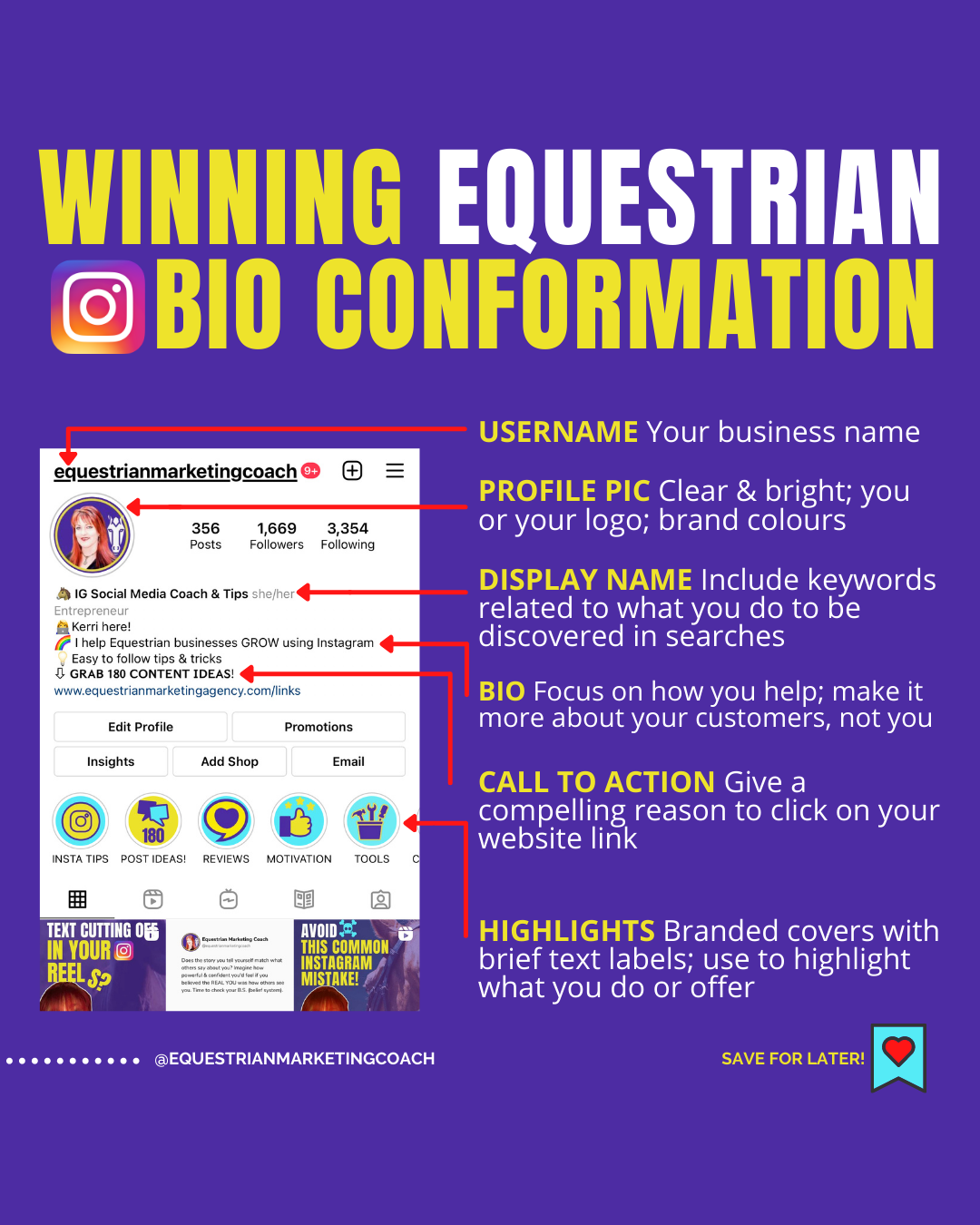 YOUR INSTAGRAM USERNAME
This is what's used to find your Instagram account, and appears after Instagram.com/
Ideally it should be your business name.
Avoid any dashes, underscores and numbers which make it more difficult for people to remember.
YOUR DISPLAY NAME
This appears immediately below your profile picture (in the app), and is one of only two searchable areas of Instagram - the username being the other.
Take full advantage of this by incorporating keywords related to what you do so you can be found by your ideal audience.
For example, if you are a dressage coach you would want to include "Dressage Coach".
Or maybe "Dressage |Equestrian" if you are an athlete.
Remember that you only have 30 characters to work with, and you can only change your display name twice every 14 days.
I recommend that you brainstorm ideas using Notepad so that you can count the # of characters in advance, and see if you like how the display name looks before you make the change.
YOUR PROFILE PICTURE
If you are a solopreneur, or the brand is you, definitely use a picture of yourself.
You want it to be clear, smiling and without any busy distractions in the background. (Bonus points if you can have a solid bright colour as the background!)
If it's your logo, make sure it can easily be seen on mobile devices and it's not awkwardly cropped.
BIO DESCRIPTION
This is where you state how you help. Make sure you put the focus on the results you provide for your customer/clients, not on you.
For example:
Helping amateur dressage riders of all ages achieve their riding goals in a fun & supportive environment.
CALL TO ACTION
Calls to action are so important as they tell the visitor the next step you want them to take.
This is especially important if you want them to click on the website link you've provided.
Give a compelling reason for them to click on that link.
For example:
↓ FREE 5 Exercises to a Stronger Seat
WEBSITE LINK
You only get a single website link in your bio, so you want to be super strategic.
Ideally you want it to link to something that is building your audience off-the-app through a mailing list (by offering a free resource).
Why? Because that future-proofs you in the event that Instagram disappears, or your account is removed/hacked.
If you don't have something like this set up yet, then you could point them to your website. Though in our example of the dressage coach above I would use the website page that talks about their training programs vs. the homepage.
The reason being, a homepage can be overwhelming and they won't know where to go next.
If it's your training programs you are promoting, then send them directly to the page which speaks about that.
HIGHLIGHTS
Highlights are a great way to take some key topics/areas of interest and shine a spotlight on them.
consider using a maximum of 5 Highlights as this is what's shown on most phones without scrolling left/right
create branded covers (Canva.com is great for this!)
keep the text label brief so it fits!
curate them regularly to remove old Stories that are months old
don't include too many, or it will overwhelm
Need a fast-track to success?
My deep-dive Instagram Audit is only $197.

I'll give you feedback and suggestions on your:
bio
highlights
content
captions & calls-to-action
hashtag strategy
You'll walk away armed with information tailored specifically for you and feel much more confident in taking the right action to grow.