How Your Equestrian Instagram Feed Works in 2022
Have you heard the BIG news? 😳
Instagram CEO @mosseri confirmed this week that they're actively rolling out THREE options on how you consume your feed.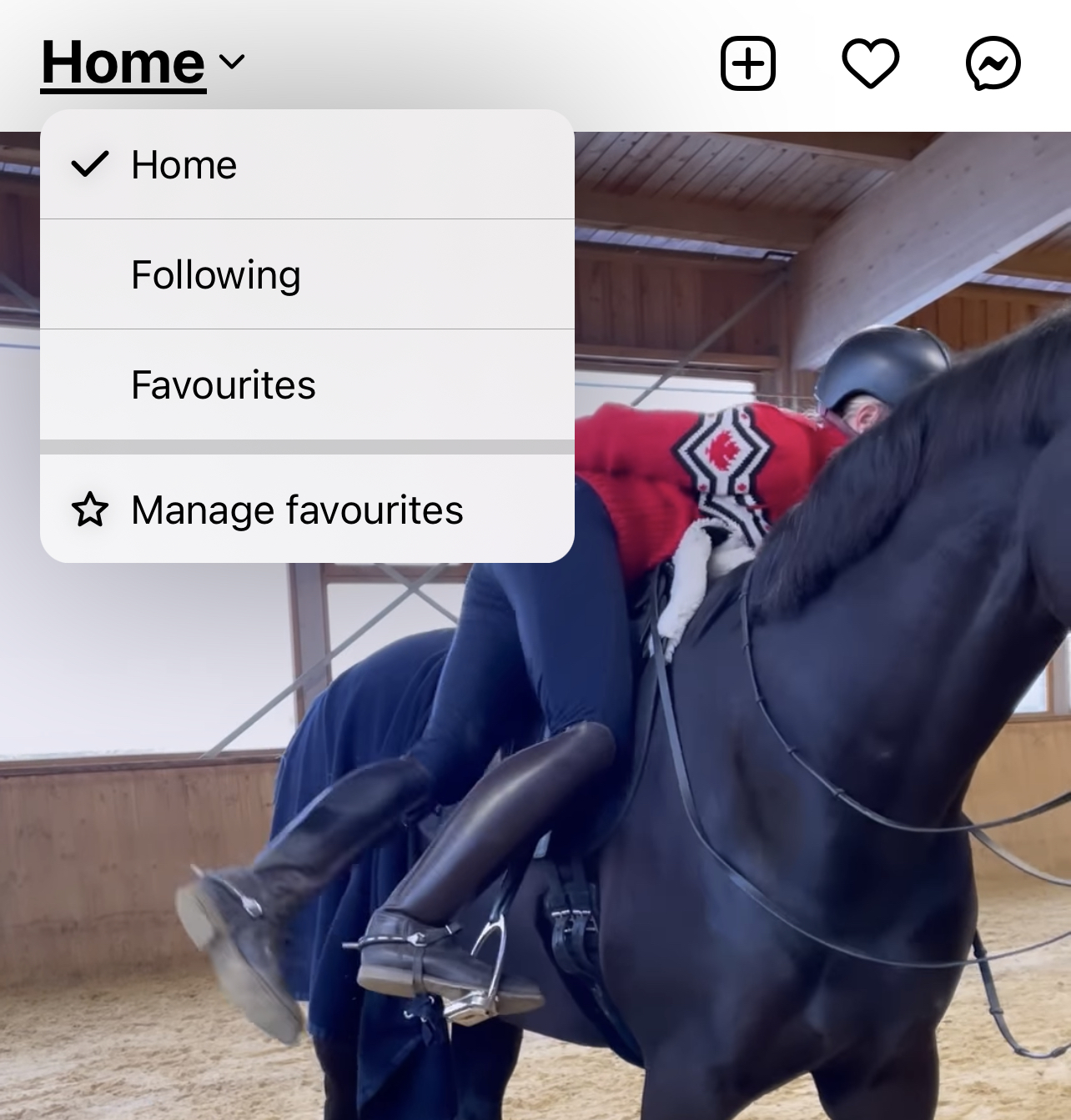 #1 - Instagram HOME Feed
The Home feed is the default. Instagram's artificial intelligence (AI) shows you what it *thinks* you want to see by:
hand-picking posts from those you follow;

making suggestions for new accounts you don't yet follow.
🥳 PROs of Instagram Home Feed:
Instagram's AI is pretty powerful, and works off of posts and accounts you engage with. So there's a very high chance that you are enjoying the type of content that it's serving up to you.
It's also an easy way to discover new accounts more easily, by occasionally popping them up in your feed so you can get a taste. That also works the other way around, meaning that YOUR posts are occassionally popping up for non-followers (who you can convert into a follower because your content is so awesome).
☹️ CONs of Instagram Home Feed:
You can sometimes miss out on content from the accounts you follow & really like, but they don't post as frequently.
#2 - Instagram FAVOURITES Feed
You curate this feed by flagging your fave accounts. Only posts from those accounts will appear in this feed.
🥳 PROs of Instagram Favourites Feed:
Never miss out on posts from the fave people you follow!
This is terrific news is you are favourited by your followers as it increases the odds of them seeing your content.
☹️ CONs of Instagram Favourites Feed:
You're in a bubble and may miss out on a potential new fave account you don't yet know about. The same is true for new people discovering YOU.
#3 - Instagram FOLLOWING Feed
You're kickin' Old Skool and seeing chronologically ordered posts just like in the early days of Instagram.
🥳PROs of Instagam Following Feed:
You're seeing the latest content as it happens.
☹️CONs of Instagram Following Feed:
If you're following a lot of accounts, you may miss out on some great posts because your feed is moving too fast. Same is true for someone who follows you.
PLUS some people may be tempted to flood people's feed by posting multiple times a day… that risks annoying their follower who will quickly say Adios! 👋
What do these 2022 Instagram Feed changes mean for your equestrian account?
Home Feed
Regularly implementing an effective engagement strategy is key to ensure:
- your posts continue to show up in your followers' feeds
- Instagram shows your posts in a non-follower's feed
(if you need some killer engagement tips, download my free "Boost your Engagement in 2022" guide!)

Favourites Feed
By regularly delivering quality content to your audience, you're increasing your chances that they will add you to their "Favourites" list.
You can also regularly add in "Add me to your Favourites list!" messaging in your Stories.


Following Feed
Exercise caution if you are tempted to increase the number of posts you do a day in the pursuit of showing up more in this feed.
Instead, double-down on having a strong content strategy that regularly delights your audience by providing them with value & entertainment.